Location of Sighting: Everett, Washington
Date of Sighting: October 15, 2015
Time of Sighting: 10:30 PM PDT
Description: I came home from work and was walking toward my apartment after parking my car. I saw two lights in the sky moving from the east. I took some pictures and then the lights disappeared.
Update – February 3, 2016 – Response From Witness Regarding Submission of Additional Photos: So sorry for the late response. I have been very sick with the flu and was recently hospitalized for it.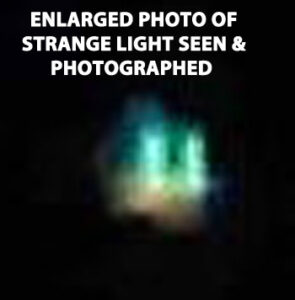 So I looked on your site and you put the green kind of boxy looking UFO up, but not the purple one. I tried to find the original of the purple, but may have accidently erased it. (I was transferring pictures from one laptop to a newer laptop & I think I lost some pictures in the process.) However, with that being said, I do appreciate the comment on your site that said you didn't think it was a fabricated photo.
Yes, I absolutely did crop the picture because I could barely see it. But I never do anything else and I would never send you any hoaxed picture. Your way too smart for that! You have been dealing with this subject for a long time now and I'm quite sure you could pick up the fakes fairly quickly! I was surprised I didn't see the purple one on your site!
To me, the purple was far more interesting than the green one and you also said I sent you two pictures but only one had a picture on it. I didn't remember sending a second picture.
Maybe I did, but I wouldn't want to send you blank pictures. In searching for my original, I found other UFO pictures I took all in the same month. I have attached several pictures and if you find any you are interested in, I could send in an official report through your site. Many of the pictures are completely unedited, some not even cropped.
I am still looking for the original to the purple UFO, but I did find the original of the green one you posted on your site. It is attached along with the other pictures.
UFOs NorthWest Note: The photo sent by the witness has been cropped and enlarged. I don't believe that the sighting has been "fabricated," but I have requested the original "unedited" photo. The witness saw two lights. Only one light shows up in the photo.
codepeople-post-map require JavaScript
The post Woman Takes Several Photos of Strange Aerial Lights over Everett, Washington appeared first on The Black Vault Case Files.