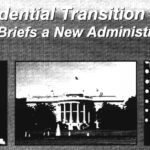 Background / Excerpt
The American electoral process retains many vestiges reflecting its eighteenth century origins. In the age of supersonic transport and email, U.S. citizens select their national leadership on a timetable derived from the speed of carriages and town criers.
In the past, in the transition periods following elections, the Central Intelligence Agency has been the manager for general orientations about the foreign intelligence community and for specific, classified briefings on topics of concern to the incoming administration.
In 2000 the National Security Agency, for the first time, decided to engage more actively in the presidential transition briefing process. The issues for NSA were not small. For those in the new administration for whom this would be the first exposure to cryptology, a briefing would be an important factor in determining how they would interact with NSA.
Previously, the National Security Agency (NSA) released the below document to offer insight into the 2001 transition. I requested what is called a Mandatory Declassification Review (MDR) under the Freedom of Information Act (FOIA) and was successful in getting the NSA to review the document more thoroughly, and remove some of the "blacked out" information. I have included both releases, for reference.
The Documents

Presidential Transition 2001: NSA Briefs a New Administration [28 Pages, 1.6MB] – This document was released to me, and is embedded below, after the Mandatory Declassification Review (MDR) was completed.

Presidential Transition 2001: NSA Briefs a New Administration [25 Pages, 2.3MB]
Mandatory Declassification Review (MDR) Release